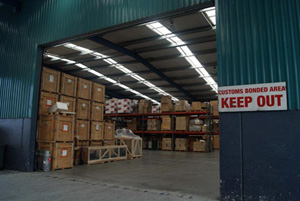 With over 30 years experience in the Customs & Shipping Industry, Bishops Customs & Global Logistics provides clients with a full range of services in a friendly, professional, one-on-one manner.
We offer a wealth of knowledge regarding all facets of importing and exporting including, Customs Classification and dealing with Ministry of Agriculture and Fisheries and other Government Agencies.
Our state of the art EDI Customs Software allows us to offer a complete Door-to-Door service, together with a landed costings module, and a worldwide network of Logistic Agencies means we are able to provide the most competitive rates and services available.
Real time order tracking will keep you informed on the status of your shipment and we have a Warehouse and Distribution Centre available for clients at Auckland International Airport.
Bishops Customs & Global Logistics welcomes the opportunity to discuss your Logistics needs within New Zealand and worldwide.